All in one machine, with 0MNIA
Here is the "machine zero",
a revolutionary model that sparks a new generation
of packaging machinery for coffee capsules.

0MNIA is Senzani's new top-load cartoning machine, able to pack the widest range of capsules (Nespresso, Caffitaly, K-cup, A modo mio, Lavazza blu, to the newest Vertuo) in all possible ordered configurations and types of cartons:
single or multilayer
with or without honeycomb sheet
with or without interlayer sheet
in 2×2 rose configuration
with flip-top carton closure
in the same-vertical-orientation, alternated, or nested capsules configurations
tube/stick
box set 3×3 or 4×4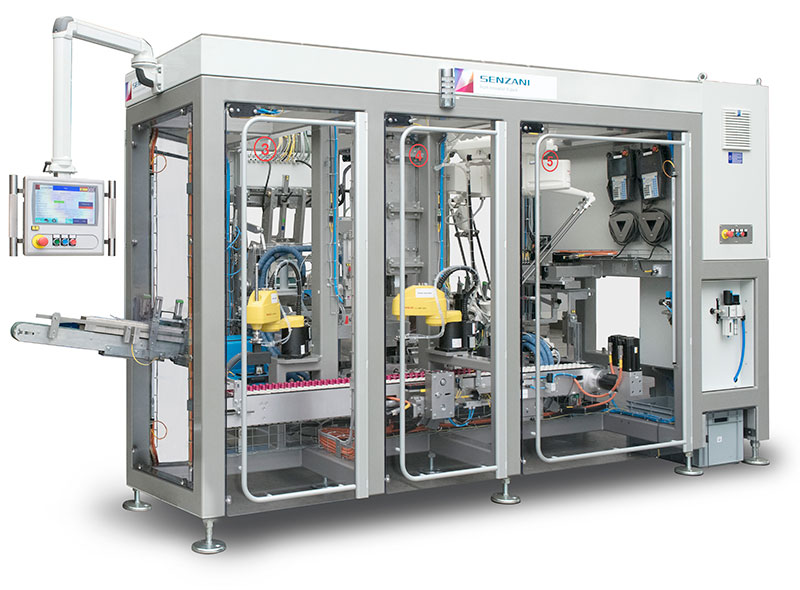 Why choosing 0MNIA?
special (patented) technical arrangements for aluminium capsules manipulation;
extremely compact footprint (min 2 x 3,9 mt);
dividing sheets handling and positioning between the capsules and the layers (interlayer or honeycomb sheet);
"positive control" of each capsule and top-quality carton squareness;
form-and-fill cartoning from flat blank;
quick and easy format change, colour-driven to speed up the operations;
infeed speed up to 800 capsules per minute;
production speed up to 80 cartons per minute.
0MNIA finally makes your production sustainable!
What are you waiting for? Want to see 0MNIA on the run?
Enter your details to enjoy a presentation: